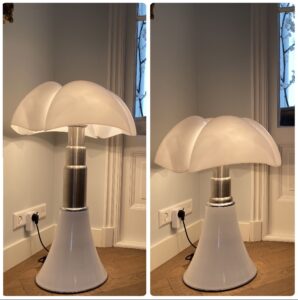 Iconic Pipistrello lamp
In the early 80's my love for interior and design items started to grow mainly due to my grandparents. They were both very fond of design furniture and design lighting. Among all their iconic design pieces, my absolute favorite was their Pipistrello lamp! I have never forgotten about this item… And yes, 8 years ago I became the proud owner of a white copy myself.
The classic Pipistrello lamp, designed by the Italian architect and designer Gae Aulenti (1927 – 2012) for the Italian lighting brand Martinelli Luce in 1965, is in function a table lamp; it looks great on a dresser, on the nightstand next to the bed, but it also looks amazing as a floor lamp.
The base of the lamp is available in several colors. The stainless-steel telescopic base can be adjusted in height, which makes the Pipistrello versatile.
Nowadays a mini version of the lamp is also available. The opal white methacrylate shade provides nice diffuse light, the lines in the shade provide shadow effects, which contributes to an atmospheric light. The lamp is now also available with a built-in LED module, making it a durable design.
A good lighting plan is the most important thing in any interior! It makes or breaks an interior. You will create the right atmosphere by using the right light, but also by applying shadows. Without a good lighting plan, you can still have so many beautiful elements in an interior, but the right ambiance is missing. I will certainly share tips for a successful lighting plan with you in another blog.
I loved and love the Pipistrello because of its beautiful shape and appearance, when I was little it reminded me of a palm tree. Later I understood that the lampshade was inspired by the wings of a bat – which means Pipistrello in Italian -.
The lamp is a timeless design, which exudes elegance and nostalgia and is a true art object for everyone's interior.
Due to the versatility of the lamp, it actually fits in all interior styles; whether it is a modern, Scandinavian or hotel-chic interior, the beautiful light and beautiful organic shapes. In my opinion this lamp is an absolute must have!
I truly believe that a few iconic pieces give an interior a glamorous look. They are the eye-catchers in an interior that generate the wow factor!
-Kim